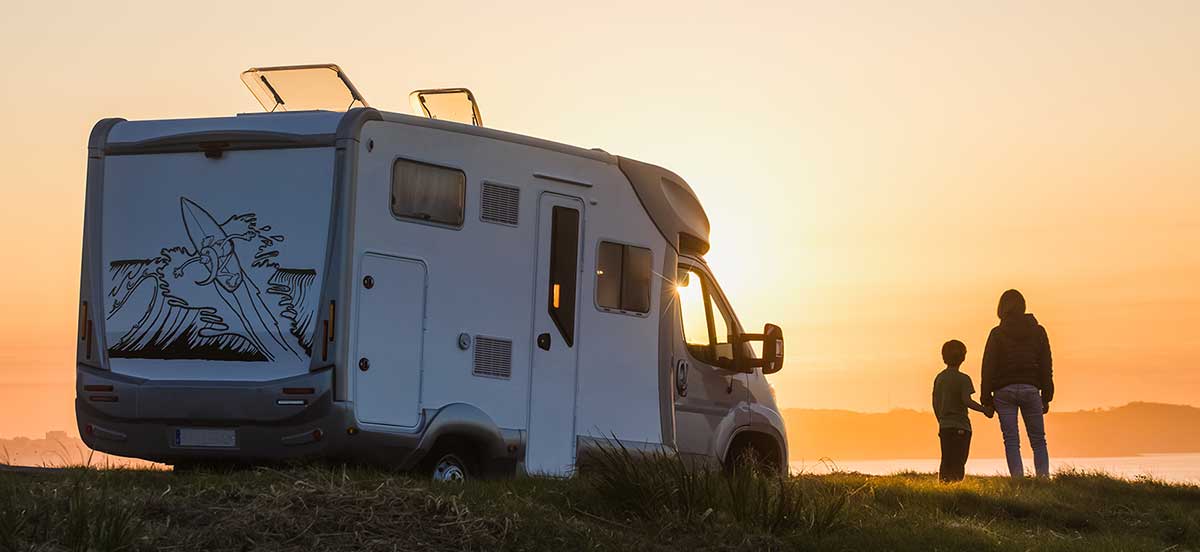 We are a Specialty RV Insurance Agency
Get A Free Quote ⬇️
Owning an RV, Motorhome, Travel Trailer, 5th wheel Travel Trailer or Camper can be a rewarding experience. From camping and exploring to cruising the open road, your RV Insurance should provide you with worry-free protection at all times. Whether you're a weekend camper or living the "RV life" full-time, we've got you covered.
At Joyce Insurance Group, our experienced team of licensed agents will compare quotes from multiple insurance companies to help you create the best RV Insurance policy at the right price. We'll ensure that you have the right amount of coverage, customized to your needs, and help differentiate insurance terms and coverages.  And at any time throughout your policy, if you have any issues, questions, changes, or need to file a claim, we'll be here for you.
RV, Trailer, and Motorhome Insurance Coverage Options
Total RV Loss Settlement Options
Actual Cash Value – In the event of a claim, you get the actual cash value or the amount necessary to repair or replace your RV, whichever is less. To determine actual cash value, we find RVs similar to yours and then account for depreciation, which includes current condition, prior accidents, mileage, and other factors. Once this fair market value is set, that's the amount you get in the event of a total loss claim, minus your deductible.
Agreed Value Coverage – Agreed value coverage is important because it gets you back on the road quickly even in the event of a total loss. So when you start your policy, we will mutually agree on a value for your RV including all permanently attached equipment. In the event of a total loss, we will pay that amount minus your deductible.
Replacement Cost – Replacement cost coverage is available on newly purchased motorhomes and travel trailers up to one model year old that has not been previously sold. In the event of a total loss, this coverage will replace your RV with a new vehicle that matches as closely as possible its make, class, size, body type, and equipment
Essential RV Coverage Options
Bodily Injury Liability – This coverage helps pay for bodily injury expenses, such as hospital bills and medical care, that you may have to pay if you're held legally responsible for an accident that injures another driver or another car's passengers.
Property Damage Liability – This pays to fix someone else's vehicle if you're held responsible for damaging it in an accident. It also pays for damage to other people's property such as their lawn or yard, utility poles, or the property inside a semi-trailer or freight trailer if you're held responsible for the accident.
Comprehensive – This coverage helps pay for repairs or replacement of your RV, motorhome, or trailer if it is stolen, vandalized, or damaged in some way other than in a collision. This includes loss or damage from fire, flood, falling objects, wind, hail, and collision with an animal.
Collision – Helps pay to repair damage to your RV, motorhome, or trailer caused by an accident.
Personal Injury Protection (PIP) and Medical Payments (Med Pay) – This option helps pay for hospital bills and medical care expenses for you and your passengers if you're injured in an accident, no matter who was at fault.
Uninsured and Underinsured Motorist (UM/UIM) – This pays for car repairs and medical bills you are legally entitled to recover from a driver without liability insurance, a hit-and-run driver, or for an amount that exceeds an at-fault driver's insurance limits. In other words, it covers you when the other driver doesn't have enough — or any — insurance.
Popular RV Coverage Options
Loss of Use – Loss of use coverage is available on vehicles insured for collision and/or comprehensive coverage. With this option, in the event of a claim for a covered loss, you are reimbursed for expenses, minus your deductible, incurred to rent a comparable substitute for your disabled vehicle.
Personal Effects Replacement Cost Coverage – Personal effects replacement cost coverage protects against damage or loss of items you use with your RV.
Vacation Liability – Available on motorhomes and travel trailers insured for both comprehensive and collision coverage. It provides you with liability coverage for bodily injury and property damage when the covered vehicle is being used as a temporary residence.
Roadside Assistance – This option covers such assistance as fixing a flat tire, the delivery of essential engine fluids, towing, and even help from a locksmith to get you back in your vehicle.
Emergency Assistance – Covers all the features available with roadside assistance plus additional coverage for personal property, temporary living expenses, and transportation costs if your RV becomes uninhabitable.
Audio-Visual and Custom Equipment Protection – Protects your audio, visual, and custom equipment not installed at the factory, but that is permanently attached to your RV. Custom equipment includes any part that modifies the appearance or performance of your RV such as an awning, a modified or custom engine, exterior tool boxes, special carpeting, custom wheels, and decorative decals.
Pet Coverage – Traveling is more fun when your furry friends are along for the ride. To keep you and your pets better protected, this option will help pay for veterinary expenses or a death benefit if your cat or dog is injured or dies in a collision.
Request Your Free Quote ⬇️
For questions or to request a quote by phone, please call 888-498-2886